Companies where law meets technology.
India is currently going through what some refer to as a 'startup boom'. Be it e-commerce, healthtech, education, hyperlocal services; startups are sprouting up everywhere. Although the legal sector has not seem that many startups as compared to other fields, there have been some spectacular companies which have changed the way law is practised and learnt in the country. These startups make the right blend of law with technology, thus allowing the legal field to keep up with changing times.
MeetUrPro  offers a myriad of services relating to business, tax, property transaction, business incorporation. You can choose among various service packages according to your budget. They also provide accounting and taxation services; rendering their website as a one stop shop for all your needs.
LawRato.com comprises 1,000 rated and reviewed lawyers in more than 150 cities across India. It's based out of Delhi and allows users to reach out to lawyers via email, phone, video calling and personal meetings. Users can post queries online, get them answered by lawyers and book a consultant for detailed opinion. They have a revenue of around 40 Lakhs a year and have recently received funding of $100,000. (Source)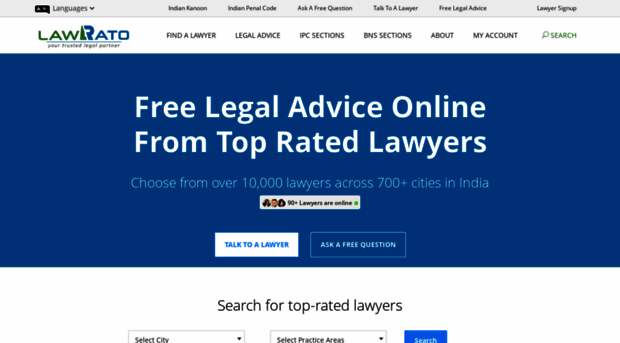 Vakilsearch prepares legal documents for your company, both online and offline. Various other services like Trademark and Patent registration are also offered.
IndiaFilings provides similar services as VakilSearch, i.e. registration of companies, preparation of legal documents and Intellectual Property related help and has become extremely popular in the recent past. On an average, it helps in the incorporation of over 400 companies and filing of 900 trademark registration each month.
iPleaders plans to make legal education more accessible to the populace. They run an Online Business Diploma Course from National University of Juridical Sciences, Kolkata. Along with that, they provide Bar Coaching and training for enforcement of anti-sexual harassment rights.
Lawctopus is India's largest law student oriented website. It is to go to website for everything related to law school life; be it internships, moot court competitions, paper submissions, career opportunities etc. They recently launched 'Academike' , their very own law journal and knowledge center which provides students a chance to publish their projects.
Founded in 2007, Vahura provides job opportunities only for the legal field. Lawyers can upload their CV's online which are then used by  the firms/recruiters who approach this website to recruit their legal team.