Future of law is going to be picking lawyer on the basis of his win rates and not because your uncle's friend recommended him to you.
"Me: Maa, kisko lawyer rakha for your publisher vala case?"
(Maa, which lawyer did you contact for your publisher dispute?)
Maa: "Advocate *…*.  South Delhi mein rehte hain. Kaafi acche lawyer hain."
(Advocate *…*. He stays in South Delhi. He is a good lawyer)
Me: "Oh! Aapko kaise pata vaise?"
(How do you know though?)
Maa: "Tumhare foofaji ne bataya hain."
(Your uncle recommended him to me)
You are caught in a heavy legal dispute. You have a service contract issue with your manufacturer who has sued you for 25 Lakhs. Or the cheque of Rupees 75,000 your client paid has been dishonoured. He is not responding to your notice. Or you can have a copyright dispute with your book publisher. My mother has it.
You need help. What will you do?
You will find a lawyer.
How will you do that?
Well. Let's find out.
We pick attorneys based on recommendations from friends, online reviews, because they're friends, friends of friends, went to a particular law school, have nice offices, work for a well known firm, saw an advertisement, their name was first in the phone book, etc. Many publications run "Top Lawyer" lists, people who are recognized by their peers as being "the best".
Do a Google search and you will find the top 10 lawyers of India, top 24 lawyers in Ghaziabad, top 24 civil lawyers in Kolkata, top 10 criminal lawyers in Mumbai etc etc. You will also find the top Indian law firms here. Also you will get to know their fees. (If you are a law student, make sure you check it out; the fees charged will make the profession really attractive for you!)
So you have the details of the top lawyers in your area now. But how do you know these lawyers are the most suitable choice according to your requirements? How do these websites know that these lawyers are actually the "top" ones?
It is quite funny that though you will find all the details of a lawyer from his address to his contact details to his fees to his areas of expertise but you will not be able to find that one specific information. One little piece of information.
How many cases has he won before? What is his winning rate?
From a Senior Advocate in Delhi to a Senior Partner in Luthra to your next-door Jolly LLB, you have no idea about how many cases they have won before. We do not have any legal database about this information.
By the way, most of these lawyers charge Rupees five lakhs for a two minute admission hearing on a Friday in the Delhi High Court. That information is generally available. It is funny that we do not have any record about their performance though.
BUT WAIT A SECOND!
Should we judge a lawyer's performance on the number of wins he had? Does it actually matter?
First Perception: It doesn't matter.
Saying you never lost isn't the same as saying you always won. In most cases, settlements happen. It cannot be considered a "loss".  If a lawyer is losing, he generally pushes his client to settle. Similarly, if a lawyer is winning, he pushes to settle in order to avoid the risk of loss howsoever minimal.
The "victory percentage" is a meaningless statistic, because lawyers get to choose which cases they take up. If an ace baseball pitcher had a 100% no-hitter rate in Minor League Baseball, we don't say he's the world's best pitcher. You have to step up to the highest level, and that means taking cases that are hopeless – and occasionally snatching victory from the jaws of defeat (Source). That's what a great lawyer is. Not the one who has never taken a risk in his life.
Second Perception: It does.
I will be talking about the work of Premonition here. It is an US Artificial Intelligence system developed by Toby Unwin that mines big Data to find out which Attorneys usually win before which Judges. It analyzes 41,000 cases in a day and has assembled the world's largest database of lawsuits. As he says "It is a very, very unfair advantage in Litigation."
Law is one of the few marketplaces where no one knows the value of each participant. There are huge variances in how good attorneys are perceived to be and how good they actually are. The results generated by their system are shocking.
Law has long been seen as a Gifffen Good, an economics term whereby the more a consumer pays for something, the better it is perceived to be.  But the results show that there is no correlation between price and performance. There are many high priced litigators who are quite simply terrible, along with some cheap lawyers who are actually phenomenal.
They found few attorneys that quite simply take advantage of their clients. Take a look at this graph: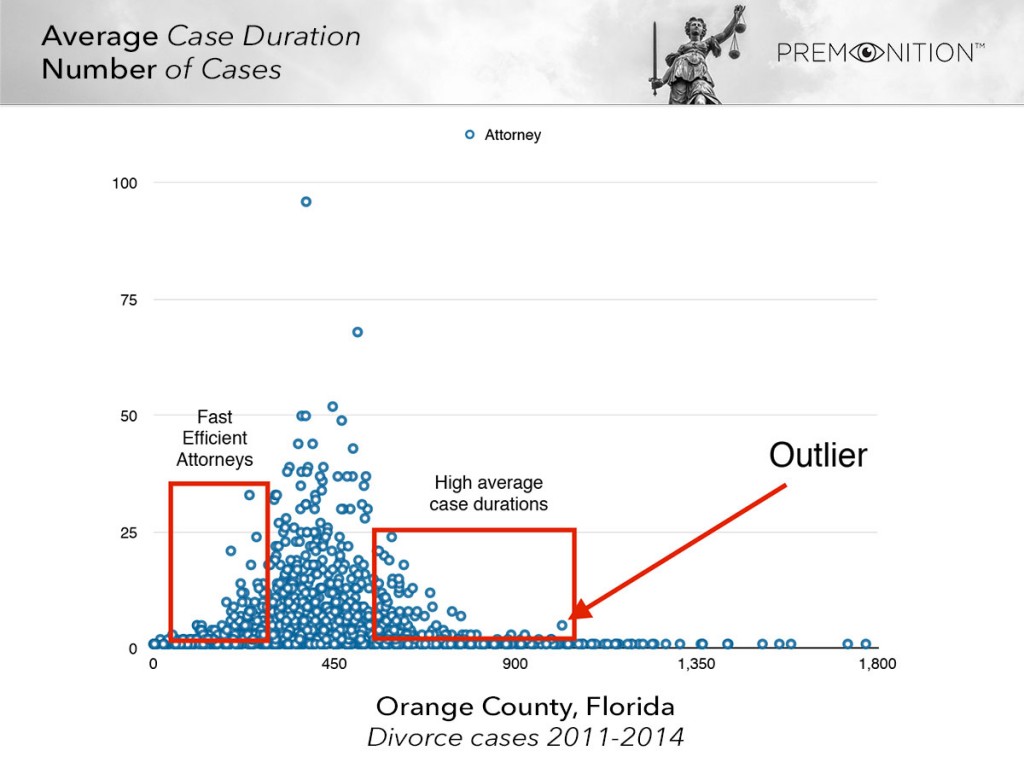 It shows divorce case durations and identifies one lawyer in particular who clearly runs the clock on all his litigation. Bar Associations will never discipline him, because they don't have the data and know what he's doing. If people could look up his times and compare them to the better attorneys they would simply stop using him. The market would fix itself through transparency.
Their data for law firms is extremely disturbing. There is a general perception that Partners are better than Associates, but we often come across Associates that have higher track records. Premonition's recent Miami 11th Circuit Court study covered over 100,000 civil cases. Restricting the survey to just the 20 largest law firms by attorney headcount in Florida they were able to extrapolate the first ever ranking of Big Law by their results. They identified 79 attorneys who handled 1,648 completed cases. There were 52 Partners and 27 Associates, i.e. the Partners handled nearly twice as many cases.
It found a 58.1% win rate for the Associates and 59.5% for the partners. It was just 1.4% more.  It is true that in law we don't necessarily get what we pay for. While there are some Partners at the Big Law firms with phenomenal track records, on average we're paying around 50% more for only a minor increase in performance.
By the way this is the situation in the United States of America. What do you think the situation in India will be like?
But before that let's talk about the first perception. It says that wins do not matter.
It is not wrong. A win out of context is hugely misleading.
For example it is possible for an eviction attorney to have an extremely high win rate. It doesn't mean that he will be a great lawyer for your service contract dispute. Context matters. Aside from differing State licensing, knowledge of the local court, procedures and Judges is vital. Geography matters. A legal dispute needs to be seen with respect to the venue, the case type, the judges. It would be total nonsense to compare evictions or traffic tickets with appellate work. Apparently the Attorney/Judge pairing also matters. This may not seem fair, but it is fact. Many judges seem to have their favourites. A former Judge which helped premonition in its development said that "Facts and law have lost too many times. People matter. Judges are human too."
This AI system provides you with pool of 20 lawyers on the basis of case type and judge. It is a very good place to start your selection. It is hard to go far wrong when you start from such a well defined pool. Also, human decision and experience will play a key role. You may choose not to go with the #1 pick given by the system even though his numbers were excellent. Because you may not like him and you do not want to spend 2-3 years of life dealing with him.
Barrister's clerks in UK often state that the number one reason why a barrister is not re-hired is failing to get along with the instructing solicitor. This leads to the "hire your mates" system that's been in place for centuries and the negative win rate/re-hire rate correlation in the UK courts. Clearly "Peer recognization" is nonsense.
Solicitors told Toby "winning isn't important," to which he responded," Clients like it."
Picking lawyers by win rates is not perfect.
But what method is better?
Conclusion
This brings us to the most important question. Can this be true for Indian Legal system as well?
The maximum number of pending cases in India is still at the institution stage. Lawyers in India are often known for their lethargic unprofessional approach. Isn't there a possibility that some lawyers in India are taking advantage of their clients and just dragging litigation? We have a backlog of 3 Crore cases. According to the Delhi High Court, It will take us 464 years to clear this backlog. Isn't there a need for more accountability and better transparency in the system? Should we not maintain such kind of a extensive legal database? I am not questioning the credibility of our great lawyers but is it unreasonable to ask your lawyer how much they win and see some numbers to back up their claims? Should we not get the service we pay for? Don't we deserve to know?
Even though there will be some data in the Public Record, there's no sign outside offices of Indian lawyers saying "this is my win rate and this is how long my cases usually take".
One of the most vital factor in litigation is your counsel's prior win rate before your Judge.  If you have to hire an Attorney, why not hire a great one? You just can't hire a big firm and hope anymore. You cannot definitely go for peer recognization and billing rates as criteria to appoint a lawyer.
At the end of the day, the numbers don't lie and the attorneys that win more, win more.
Premonition teaches us a very important lesson.
Everything we knew about lawyer selection till now was wrong.